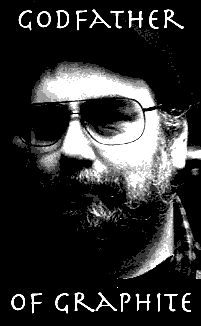 Geoff Gould
As founder and president of Modulus Graphite for almost 2 decades, Geoff Gould was the driving force behind many of the modern innovations which have become standard in the world of guitars and basses.

While at Modulus, he was responsible for the development of the stringed instrument graphite neck (patent #4,145,948), which is widely recognized as one of the most significant structural improvements in neck design in a generation. A wide variety of today's manufacturers utilize this technology, validating Geoff's vision.
He also pioneered the use of the 35 inch scale length for production basses. Being a bass player himself, Geoff knew that low B strings were too floppy, and in what seems obvious today, adopted the then-radical idea of a 35" scale into the heart of Modulus' production basses.
Superior Design from an Industry Leader
"My own guitar sound developed from Geoff's innovative graphite neck guitars. I would not be the same guitarist without his work."

-Henry Kaiser
world-class guitarist

"Geoff is the guy who introduced me to the 5 and 6 string bass in 1983! I've never looked back."

"In my opinion, Geoff is the man primarily responsible for successfully bringing the "low B" string into the mainstream bass guitar world."

-Andy West
pioneering bassist, Dixie Dregs, Zazen
While everybody and his brother has a web page these days, Geoff helped Modulus become the very first commercial musical instrument manufacturer to have a presence on the Web, and enabled the public to glimpse new instruments and artists' pictures, immediately, without having to wait for the annual catalog. Once again, this is all commonplace today.

What the hell, you may ask, does Geoff's expertise in the web have to do with basses and guitars? By making information easily available on the web, Geoff helps bring dealers and customers together in an informed manner. That's what!

At GGould Music, Geoff continues to look into the future, while maintaining perspective and balance with tradition.

What lies ahead? Turn the Page!